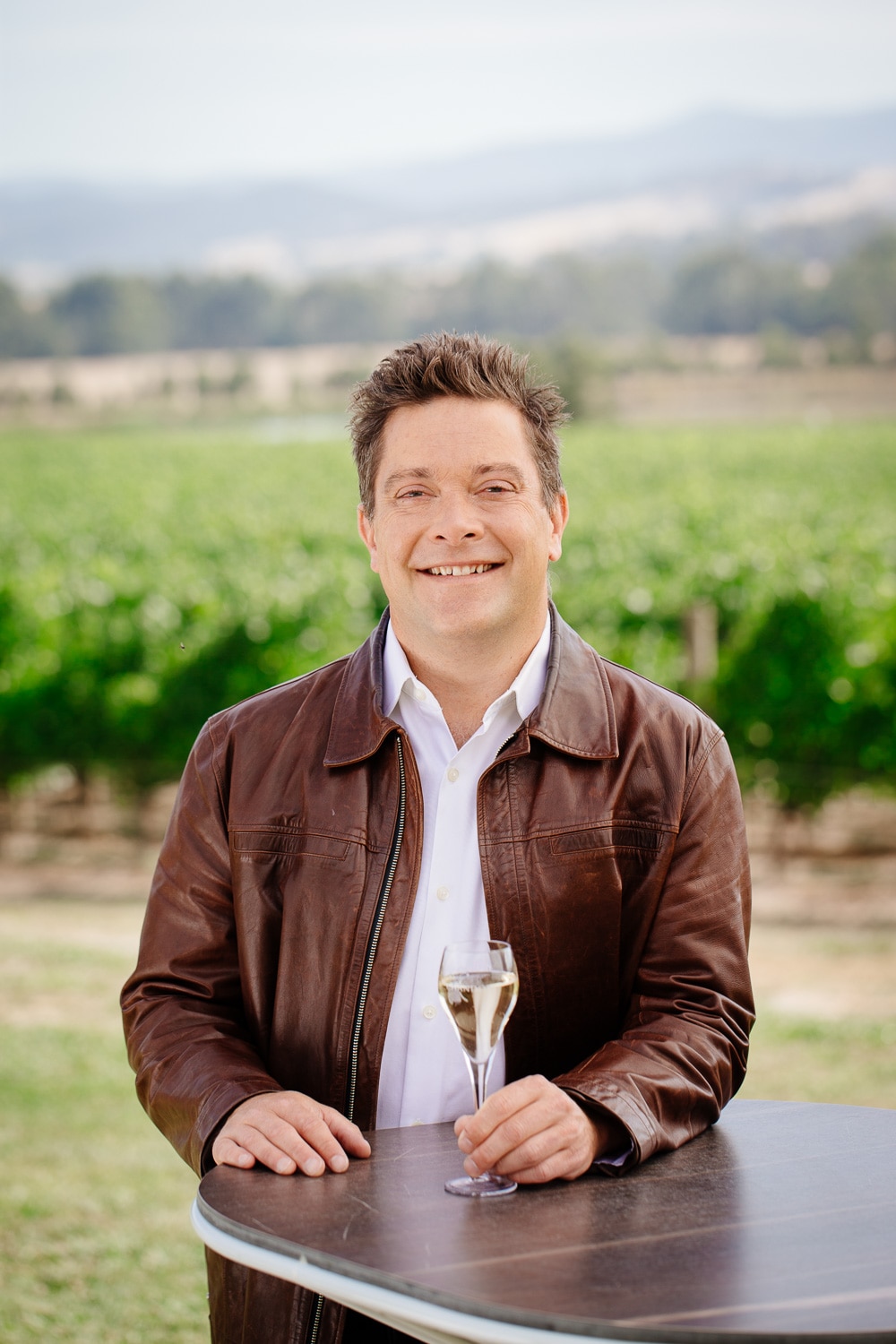 Chardonnay in Champagne is a relatively scarce resource, which makes the Champenoise Blanc de Blancs highly prized among the best of Champagne. The majority of Chardonnay in Champagne is used in blends, as a necessary inclusion to add front palate zest and citrus fruit characters, to add minerality and florals, and to give tension and acid focus to the finish of wines. At the moment, only around 28% of Champagne is planted to Chardonnay, and most of this is on the Côte des Blancs.
In a cold and marginal climate such as Champagne, Chardonnay is particularly prone to mildew, especially powdery mildew. The east facing slopes of the Côte des Blancs benefit from the drying effects of the morning sun and produce the greatest Chardonnay base wines in Champagne. This limits the set of flavours available. Although there are variances in aspect, topsoil depth, slope and exposure, overall the Côte des Blancs can be seen as very similar in terms of terroir and flavour, especially through an Australian lens.
Here in Australia, we have a completely different situation, where Chardonnay is widely planted, and represents around a quarter of Australia's total grape harvest. And being so widely planted we have an enormous variety of locations and with each location comes a new set of flavours. The diversity of Chardonnay expression in Australia is a great benefit for Australian sparkling wine producers and consumers, something to be proud of and to celebrate.
For Chandon this means allowing the grape flavours to speak first in our base wines, not to suppress the fruit with fining or oxidation, or to otherwise resist focussing on the yeast and age characters which so remind us of Champagne. We see sandy clay loams in the Yarra Valley floor, sandy granitic loams in Macedon, dark loams over clay, and most excitingly the rich, red ferrosols which we find in several of Australia's best Chardonnay regions. These latter basalt volcanic red soils are where we find some tremendous Upper Yarra Valley Chardonnay base wines. So perhaps not surprising that we find these soils at Whitlands as well.
Chandon has had a long association with the Whitlands Plateau, we have been working with fruit from the Collina del Re vineyard adjacent to the former Brown Brothers property for over 20 years. These cuvées have frequently been among the best we make every year.
When harvest is finished and the wines are finished fermenting, we do a series of base wine assessment tastings. These are done blind and in a group and we now score each wine on an iPad and collate the rankings before discussing each wine. We normally have around 5-8 people, including winemakers, viticulturists and senior cellar team members. This provides us with the most objective tasting we can arrange.
This is tremendously important with something as inherently personal as wine tasting, and we know that our prejudices and preferences show through when we taste knowing what the wines are. And every year, the wines from Whitlands really shine. The Chardonnay shows finesse and citrus purity – think lime pith, kaffir and lemon curd. The Pinot Noir shows pink grapefruit, cranberry and redcurrant flavours. The Pinot Meunier more musk and rose petal.
So it was with great confidence we were able to make the case to acquire the Whitlands Plateau Vineyard from Brown Brothers in late 2013 when it came up for sale.
Working with these great wines has caused me to reflect on what makes vineyard great. How did it come about that the Grand Crus of Champagne and Burgundy evolved?
If we jump back 120 years, and think about France. Although Pasteur did his seminal work on microbiology in the late 1850s, the training and education of young vignerons was largely from one generation to the next, with no formal science, until the latter part of the twentieth century. So oenological science, upon which we rely so heavily today, was not available to the average Champenoise or Burgundian vigneron. And yet, there were Grand Cru vineyards which routinely threw up truly great wines. Wines with balance, personality, charm, harmony and longevity.
Remember also that each generation would replant the previous (or the grandparents') vines, and that this was done by selecting vines from within each plot to become parent vines for the next generation. This represents a slow but important breeding program which has, over centuries, improved the vines' suitability to each particular terroir.
This is where we see a division in European viticultural history, as there were vineyards associated with noble classes and the Church, which sought the best possible wines. And there were those associated with the peasantry, which sought quantity and simplicity, which would produce reliable, easy to ferment grapes with plenty of volume.
Burgundy and Champagne were, for the large part, all about quality, with strong links to the Church. So imagine it's 1885 and we are harvesting Le Montrachet. The rain has seemingly finished after the 2nd of October, and the last week of clear weather has finished the ripening. The leaves are turning yellow and the base leaves are starting to fall as the shadows grow longer each day. The grapes are tasted and assessed to be ripe according to how we were taught by our grandparents. We pick the grapes and we press the juice off into oak barrels. Natural, spontaneous fermentation occurs within a week. We top up the barrels as we were taught to prevent the vinegar film from growing on our young wines. And we wait. In springtime, they start to bubbles again, for a few weeks or so. Then before the next harvest, they are bottled with a minimal addition of Sulphur dioxide. The wines are judged as great and go on to be sold and resold for another 50 years and beyond - for the highest of price.
How does this work? I think that these vineyards have come to prominence over time for reliably producing great wines without oenological intervention. For this to work out, the grapes must have all the technical dimensions of ripeness "spot-on" at the same moment. The sugar, the acidity, the balance of tartaric acid to malic acid, the flavours, the tannins must all be technically perfect at the same time to permit such un-technical winemaking. This sets the foundation for longevity and the possibility of charm and personality.
If we take this as a working theory of what defines a Grand Cru, how then to use this in the antipodean context? Especially as I realistically only have another forty or perhaps fifty years to work it all out.
This is where Whitlands is special. The wines require no adjustment. We harvest Chardonnay, Pinot Noir and Pinot Meunier at 10.5 Baume, with pH 3.2 and TA 9 g/L with delightful flavours. The technical details land altogether at the same moment of harvest. Miraculous. And the wines age so slowly, so gracefully.
From a sparkling winemaking point of view, this leaves open the many stylistic and varietal options which are available to us without limitation. Single variety with balance and finesse? Blends? We can do all the twists of what Richard Geoffroy calls the "Rubik's Cube" of winemaking varietal and style.
Taking a viticulture and terroir point of view, the next steps are to identify the subtle nuances of soil depth, hillside, sunlight and clone to elaborate even further on the capability of this country. The best is yet to come. Enough to say that a truly Australian grand cru Blanc de Blancs will be a big part of this picture.
RECENT TASTINGS
Champagne Vilmart Grand Cellier NV
Established in a grower based in the Montagne de Reims, in the small village south of Reims called Rilly-la-Montagne. An unusual composition of Chardonnay from a location far from the Côte des Blancs, blended with a lesser proportion of Pinot Noir (70% Chardonnay, 30% Pinot Noir).
Pale straw with green edges, the wine shows ultra-fine bubbles and lovely mousse. Citrus notes, lemon rind and orange blossom, some fatter, more exuberant aromas of spice, ginger and nutmeg in the background. Yeast is there in the guise of biscuit and warm pastry aromas, but not overdone.
Fine acidity blooms on the palate, with citrus and green apple flavours layering onto patisserie. Texturally delightful, creamy without being heavy. Find the balance between serious and joyful. Lovely grower Champagne.
Champagne Delamotte Blanc de Blancs 2002
From the second largest group in Champagne (Laurent-Perrier), under their label Delamotte, this is a rare vintage production of pure Chardonnay from the Côte des Blancs. Ten years on lees before disgorging. Vintage 2002 is one of the greatest years of the decade, next to 2008.
Some yellow hues here, showing fine bubbles and distinct bead. The nose is toast, butter, brioche over bright citrus character. Distinctive acid tension gives the wine freshness, bottle maturity delivers more hazelnut and walnut praline over a candied lime character. More dried fruits than fresh. Soft on the palate, time has loosened the tension of mineral and lime into something softer and more warm hearted. At its peak.
Chandon Whitlands Plateau Blanc de Blancs 2013
A single variety from a single location, growing in red soils at over 800 metres altitude.
On opening the wine presents with a pale straw colour, very fine bead and persistent mousse. Pretty white flowers, lime blossom and pear aromas overlay toast and grilled nuts.
Palate complexity with hazelnut praline and toasty patisserie characters from the yeast ageing are balanced against the orchard fruits of pear and quince and subtle vanilla on the long, persistent finish.